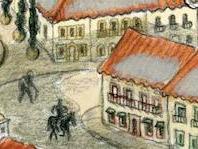 Black Friday Art Coaching Offer

Black Friday Art Coaching Offer

$95 - $411

Yay! You made it!

Sign up here for my

super-duper limited time only

Black Friday Art Coaching Offer!




Just click on the "add to cart" button below the image at the top of the page.




Scroll down for offer details & price info.




---




Let's face it - times are stressful. We're surrounded by both devastation, and heroic expressions of love and devotion.




In my experience, nothing helps relieve stress better than a good, powerful, art-making session. It helps work through fear, anger, grief, panic… & helps to express awe & compassion for our fellow humans, too. Can you relate?




Art Coaching will help you make sense of the chaos,

Transform your fear, anxiety, anger, compassion, & hope into powerful expressions of life in our time;
Offer you permission to express your true authentic self, &
challenge you to grow into this new life, wherever it leads.

---

Offer details:

One-on-one art coaching sessions, one-hour each
Choose either 1 session or 4 sessions
Be one of the first 3 to sign up, & get 25% off
20% off for the rest of you - still a good deal!
Lovely gift certificates are available if you want to give a meaningful gift to a deserving loved one
Buy now and redeem / schedule anytime within 6 months
Until / unless there is a way to meet safely in person, sessions will be held virtually through Zoom. Artwork can be shared either on-camera, or via e-mail or a Google Photo album. We can meet 15 mins. early for our first session for a Zoom tutorial, if needed. (It really is quite easy!)

---

Price info:

4 sessions




Regular price for 4 one-hour sessions - - $340.

25% off for the first 3 - - - - $262.*

Save $78.

20% off for the rest - still a good deal at $280.*!

* Prices include most of the Paypal fee.

---

Thanks for taking the leap in joining me for a new adventure in self-discovery!

Be the first to

post a comment

.
This website is made possible by an Emerging Artists Grant from the Durham Arts Council with support from the North Carolina Arts Council, with funding from the state of North Carolina and the National Endowment for the Arts, which believes that a great nation deserves great art. 
RSS
|