Click an image to enlarge

Give a meaningful gift to someone you love!
One that feeds their soul, brightens their winter nights,
warms their winter days...
* * *
What ignites the imagination,
invites the creative muse,
jump starts artistic passion?
Art lessons! & Art Coaching!
* * *
This year, for my
2019 Winter Holiday Sale,
I am offering
* * * * *
Two Gift Certificate options:
1. Private art lessons
2. Art coaching sessions *
* * * * *
Get 15% off on 1.5-hour lessons,
OR:
Get 15% off on 1-hour art coaching sessions.
Your loved-ones will get guidance, support,
and useful tools for artistic growth
from an experienced pro art teacher & art coach.
Here are the details:
Lessons are 1.5 hours long.

Coaching sessions are 1 hour long.

They can happen at your place or mine (30 minute travel limit)




Gift recipient gets fancy-looking Gift Certificates...

...and a bonus coupon for 15% off on a group of 4 lessons / coaching sessions.
Continuity is essential for progress & growth. Gift certificates expire 6 months after issue! There's no time like the present to engage in soulful creative activity.

Offer ends on Saturday, Dec. 21, at 11:59 PM.

You can absolutely buy this gift for yourself, as well; you definitely deserve it!
Here are some examples of what can be explored in private lessons:
Skill-building: develop drawing skills to heighten observation & improve drawing accuracy, including portrait drawing, urban sketching; also color-mixing skills; visual story-telling skills (illustration / comics / kids' books), and some digital art skills.
Art-exploration: explore different media (watercolor, oil pastel, printmaking, conte crayon, charcoal, etc.); & techniques (cut paper, tone drawings, collage, assemblage, printmaking (such as monoprints, collagraphs), different forms of abstract art, & more...
Art heals! ~ Art calms ~ Art expresses what words cannot.
Prices for Lessons:
Normally, the price for a 1½-hour lesson is $87.
At 15% off, the sale price is $74.
The usual bulk discount price for 4 lessons is $331.
At 15% off, the sale price is $281. (Save $50.)
Prices for Art Coaching:
Normally, the price for a 1-hour session is $115.
At 15% off, the sale price is $98.
The usual bulk discount price for 4 coaching sessions is $340.
At 15% off, the sale price is $289. (Save $51.)
The usual bulk discount price for 8 coaching sessions is $612.
At 15% off, the sale price is $520. (Save $92.!)
---
Is there someone in your life who could use a creative boost? Someone who would love a foray into a delicious art adventure designed especially for them?
To order, click on one of the images below. A new window will open, where you can click on the 'Add to Cart' button, to take you to the payment page.
Once payment is received, I will contact you via e-mail to get more info and a mailing address to send the certificates.
---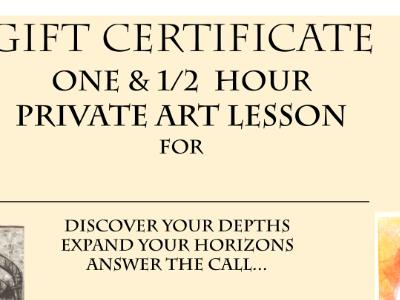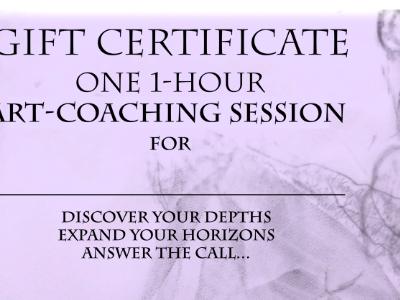 Be the first to
post a comment
.