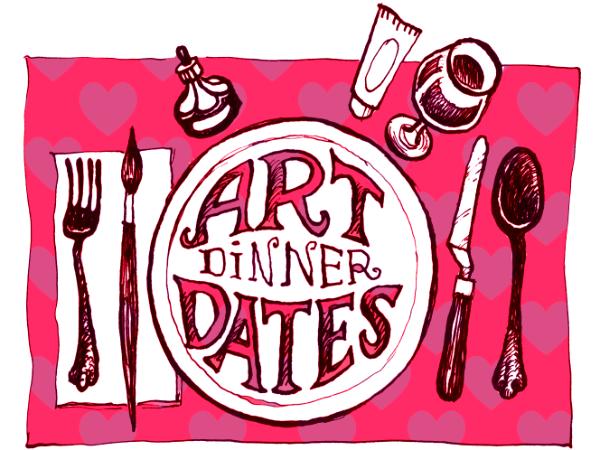 Art Dinner Dates!
$50.72
Looking for a dynamic place to take your date for a special occasion?
Click on the "Add to Cart" button above to sign up.
Price is $ 50.72 per couple.
Art Dinner Dates include 2 or 3 short art exercises designed to break the ice and (dare I say?) inspire a deeper, juicier connection with your date, in a creative way!
If you are nervous about your date, fear not!
If you want to add more spice to your seasoned relationship, you are in the right place.
The art exercises provide you with plenty of juicy experiences to talk about!
Come join us for the
Valentine's Day Art Dinner Date
Thursday, Feb. 14, 2018 ~ 5:30 - 7:30 PM
at Imbibe ~ 108 Henderson St ~ Chapel Hill
$49. / couple*
*($50.72, if you pay here via Paypal)
Your $49. gets you 2 or 3 art exercises + a glass of wine each, + appetizers & a dessert to share.
or click on the "Add to Cart" button at the top of the page. ($50.72 covers the Paypal fee.)
* *Don't wait to sign up! Space is limited to 10 couples!* *
---
Here's what one Dater had to say about the last Art Dinner Date:
"Stacye, what a fabulous way to spend Valentine's Night! We really enjoyed the chance to do creative things together. But more importantly the great conversation that it sparked! We Will Be Back!!!"
Here's from another Dater:
"Great fun. I loved that we got our own table and could share personally. … Thanks for offering this Valentine opportunity!!"



E-mail me
for info on other upcoming Art Dinner Date events, or if you'd like to host an Art Date event for your group, workplace, or party:
sleanza.art@gmail.com
Click here for more info on the art exercises:
---
If you like this idea, please click on the "Like" button below. And even better: leave a comment telling us what you like about it. I would be ever so grateful!
Also leave your questions or ideas for art exercises. Thanks for your input!
Be the first to
post a comment
.