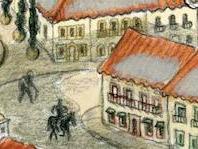 Private lessons are great if:

You can't attend regular classes due to schedule conflicts.
Or if you want more help on a topic we whizzed through in class (Sighting Angles, & Proportions, for example).
Or for topics I don't usually cover in class, including more advanced lessons such as Drawing Hands & Feet, Comics & other Illustration, etc..
Or for teens with a busy schedule; especially those who need help with their portfolios for college applications

Come get one-on-one guidance in skill building, self-expression, or whatever you need to get to the next level… It's a chance to go deep into the art-making realm…




TEACHING EXPERIENCE - or: "Why should you trust me?"

I've been teaching process-oriented art classes & private lessons for over 10 years to adults & children. I've been coaching clients individually since 2014, with transformational results! (Check out my Art Coaching page here:

Art Coaching!

)

I have an exploratory approach to art-making, which celebrates mistake-making as a necessary part of artistic growth. ...it makes for fun and relaxed lessons, too!

I firmly believe in growing through knowledge & pleasure, not through suffering! This way of living comes with me to class, work, and studio, and is an important part of my curriculum.

Sessions are available afternoons & evenings at your place (local) or mine. So there's no need to let a busy schedule keep you from making time for art!

Lessons are geared to each student's needs & ability. So you can get guidance that fits your individual learning style. So, now is a good time, yes?




Ready to invest in your artistic growth?

Click here to enroll: Enrollment Page






Be the first to post a comment.

This website is made possible by an Emerging Artists Grant from the Durham Arts Council with support from the North Carolina Arts Council, with funding from the state of North Carolina and the National Endowment for the Arts, which believes that a great nation deserves great art. 
RSS
|