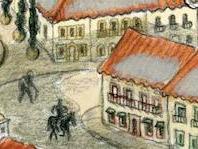 Click an image to view gallery

Children's Book Illustrations
My children's books tend to be on the humorous/ "edgy" side. But often they include serious emotional subject matter, as well. My favorite media are oil pastel (bold & colorful), colored pencil with watercolor (detailed & sensitive), and pen & ink (usually on the cartoonish side). You can find some test booklet illustrations here, as well.

Maps! Posters!
These maps & posters illustrate the flavor of the event. The maps also show how to find your way. They are extremely fun to make! Perhaps you need one for your event??

Comics for Kids
Here are the Sophie & Sappho strips that were published in the Carrboro Free Press in 2009. They were created for the "Kid's Freep" page, and designed to be an ongoing story, "...told a page at a time."

Click twice on an image so that it will zoom in large enough to read.

Editorial Illustrations
(Magazine, newspaper, and other book illustrations.) If left to my own devices, my editorial illustration would tend to be on the humorous/satiric side, like my children's book illustration. But, what my clients want, they get. So you will see a few different styles here. Pen or brush, ink, & gouache; or watercolor and colored pencil, are what I typically use.

Murals
My murals range from large-scale outdoor productions to small indoor projects. They are community centered; expressing the ideas and identity of the community they serve. The intent is to create a sense of belonging and pride within the group. The subject matter is often historical. My favorite murals, however, are the more imaginative and expressive ones I have recently done for libraries and businesses. All of my murals have transparent layers of color, which give them the appearance of glowing, or radiating color. It adds depth to the murals, so they appear to be jumping off the wall!

Portraits & Sketches
Most of these were done for myself, out in the world. Known as Reportage, or Urban Sketching, or even Reportorial Illustration, these are sketches made on the spot, designed to capture the essence of a place or event, & the people involved. Because no one is posing, they are often made rather quickly, "at the speed of life". Other sketches here were done in my figure drawing group.

Paintings
My painting process is pretty much the opposite of what I do for my mural and illustration clients. I paint what I want to explore, letting my curiosity lead me. It's way more personal. Often I'm exposing some aspect of society that that I feel is overlooked and needs attention.
And though I find our industrial world to be full of compelling images, my new work reflects recent changes in my personal focus: more of an exploration of my own interior world. The result is new, abstract watercolor paintings, exploring aspects of life on earth that I usually neglect.

Volcano Book Art
Here are some of the illustrations for the book, Mi Casa en el Volcán, (I Built my House on a Volcano), written by Joe Cole, & published in 2014, on Vulcanalia, the feast of the god of fire & volcanoes! The book is billed as "a picture book for all ages", as it delves into ideas about decision-making & following one's passions... things we deal with all our lives.




What I loved most about illustrating this book, is immersing myself into a fascinating culture, and its history. The textures, colors, stories, landscapes, the incredible plant & animal life - it was all so rich!




Here's a review:

"Joe's words convey a graceful story and Stacye's illustrations are marvelous. It stays in the mind and activates the heart. Love of place and simple faith carry more water than all the false fears of the world. Besides, we all live on the volcano."

— Gary Phillips, writer, naturalist, entrepreneur




If you'd like more info about the book, including how to buy it,

click here

.

8 x 10" prints are available, too. (Contact me for bigger ones.)
This website is made possible by an Emerging Artists Grant from the Durham Arts Council with support from the North Carolina Arts Council, with funding from the state of North Carolina and the National Endowment for the Arts, which believes that a great nation deserves great art. 
RSS
|