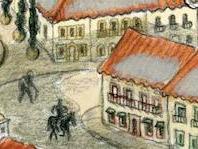 Click an image to enlarge

Find current and past event here, such as art classes, Art Dinner Dates, special sales, etc. Click on title or image for details.

Gift Wrap Making Workshop (NEW)

Here's a fun and relaxing way to add a little extra magic to your gifts: wrap them in homemade wrapping paper. We'll use tempera paints and textured objects to print designs on large paper. Guidance on color, composition, and printing methods will be offered. Participants...

Green Art and Plant Sale

Check back again at tax time, when it's time to send more "greenbacks" to Uncle Sam (heh-heh), for the next Green Art & Plant Tax Sale.




In order to raise funds for Big Bro', I'm having a 15% - 20% off sale on some planty prints and paintings that...

Art Dinner Dates!

$20.88 - $41.50

Looking for a dynamic place to take your date out for a special occasion?

Or perhaps you prefer celebrating with friends in a group?




There's room for all at the

Valentine's /Valen-Friends Art Dinner Date!




❤️ Valentine's Daters will...

Art Party

$37.34

Bring your friends or come solo and meet some new ones.

Either way, you'll mix & match & create some wild, mind-bending, revealing, humbling art-works together!

* * *

Sweethearts may come and go,

but good friends, as they say, are forever.

❤️

Valen-Friends Art Dinner Pizza...

Be the first to

post a comment

.
This website is made possible by an Emerging Artists Grant from the Durham Arts Council with support from the North Carolina Arts Council, with funding from the state of North Carolina and the National Endowment for the Arts, which believes that a great nation deserves great art. 
RSS
|