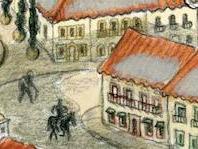 Click an image to enlarge

Virtual Sketchbook Journaling continues...

$133

Virtual Sketchbook Journaling on Our Upside Down World

Round 14 dates: We're meeting bi-weekly at 6:45 - 9:00 PM ET on Zoom, on the following dates:

Weds., Feb. 16, & Mondays, Feb. 28, Mar. 14, & Mar. 28




There is plenty to process, interpret, & express, and many ways to do it....

Sketchbook Journaling Class 2023

Why Sketchbook Journaling?

One thing about Sketchbook Journaling is that it can help you be in the present moment - to really slow down & notice your surroundings more deeply. It's a way to pause, take a breather, & relieve some anxiety & stress in the process…




On the...

Power & Point of View (POV) class

$155

Virtual Illustration - Power & Point of view

6:30 - 9 PM ET / 3:30 - 6 PM PT *

on Monday nights via Zoom

June 5 - 26 (4 weeks)

In this class, we'll explore the effect an artist's perspective (aka: POV) has on the way power is portrayed and perceived in the picture.

NEW! On-line class: Figure Drawing Open Studio

$49.69

Virtual *Live* Figure Drawing Sessions

Wednesday nights 6:40 - 8:40 EDST, on Zoom; May 6 - 27, 2020 (4 Weeks)




Virtual *live* life drawing is the latest thing! And the next best thing to the real deal. We'll start with quick warm-up gesture drawings, & work up to a one-hour pose. We are...

Green Art and Plant Sale

Check back again at tax time, when it's time to send more "greenbacks" to Uncle Sam (heh-heh), for the next Green Art & Plant Tax Sale.




In order to raise funds for Big Bro', I'm having a 15% - 20% off sale on some planty prints and paintings that...

Art Dinner Dates!

$20.88 - $41.50

Looking for a dynamic place to take your date out for a special occasion?

Or perhaps you prefer celebrating with friends in a group?




There's room for all at the

Valentine's /Valen-Friends Art Dinner Date!




❤️ Valentine's Daters will...
This website is made possible by an Emerging Artists Grant from the Durham Arts Council with support from the North Carolina Arts Council, with funding from the state of North Carolina and the National Endowment for the Arts, which believes that a great nation deserves great art. 
RSS
|