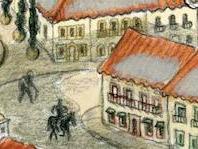 Click an image to enlarge

Find current and past events here, such as art classes, Art Dinner Dates, special sales, etc. Click on title or image for details.

Virtual Sketchbook Journaling continues...

$133

Virtual Sketchbook Journaling on Our Upside Down World

Round 14 dates: We're meeting bi-weekly at 6:45 - 9:00 PM ET on Zoom, on the following dates:

Weds., Feb. 16, & Mondays, Feb. 28, Mar. 14, & Mar. 28




There is plenty to process, interpret, & express, and many ways to do it....
This website is made possible by an Emerging Artists Grant from the Durham Arts Council with support from the North Carolina Arts Council, with funding from the state of North Carolina and the National Endowment for the Arts, which believes that a great nation deserves great art. 
RSS
|