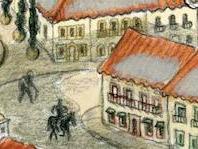 Click an image to enlarge

1114 Environ Way; Chapel Hill, NC 27517

Find Your Artistic Voice




This class is essentially a group version of art coaching, only it's a lot cheaper! It's a good place to try stretching your wings. If you have an elusive project idea you want guidance with, this is a good place to get it. I also offer content / process-based art exercises to get the creative juices flowing, especially in the "meaning" department. Your artwork can work for you, without over-thinking it! Please let me know if you have any questions.




*Space is limited to 5 students, so please don't wait to sign up!*




Section B - Thursday, 11am-2pm, July. 12 - Aug. 2 (4 weeks)

*Please sign up for Sec. B by Mon. July. 9th at 12:00 noon!! **




Section C - Thursday, 11am-2pm, Aug. 9 - 30 (4 weeks)

*Please sign up for Sec. C by Fri. Aug. 3rd at 11:59 PM!! **




SIGN UP HERE:

Click on the Section you want to sign up for.
A window will open. Click on the "Add to Cart button underneath the image.
It will take you to the Order page.

1 comment |

Post comment

I love Stacye! She is an amazing artist! And a huge inspiration to me. Keep going Stacye!!!
-- Heric Davis, 1/24/17


This website is made possible by an Emerging Artists Grant from the Durham Arts Council with support from the North Carolina Arts Council, with funding from the state of North Carolina and the National Endowment for the Arts, which believes that a great nation deserves great art. 
RSS
|