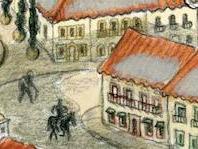 Prices for Childrens' Book Illustrations

Hello When you say the price includes x1 rough illustration, do you mean for each page?
-- Helen, 11/5/18



To answer Ali's question: - If you truly want 31 illustrations for your book, the price would depend on how many of each size you would want. It would range from about $5860. to $10,760. - However, most picture books do not have illustrations on every page. As an example, the picture book I illustrated a couple years ago (I Built my House on a Volcano*) was 32 pages, but had only about 15 illustrations + the cover. It came to about $3600.
-- Stacye Leanza, 1/4/17



Hi, how much would you charge for a book that needs 31 illustrations and a cover?
-- Ali, 8/17/16



Hi Stacye, Thanks for this page about illustrations. Could you please provide definitions of the different types of illustrations you're referring to: spread, full, half and spots. Thanks in advance! Katherine
-- Katherine, 7/29/16



Ingerlene, I would charge separately for page layout & type setting (aka: book design). I'd probably charge by the hour - about $20/hr. But I think a graphic designer might be more efficient at it, tho they may charge a higher hourly rate. It might be a good idea to ask a book designer or graphic designer for an estimate, as well. Hope this helps.
-- Stacye Leanza, 4/13/16



If you are also laying out the page and setting the type, do you charge any differently? If so, what is the difference? A percentage more perhaps? Thank you for your help!
-- Ingerlene, 4/13/16



Yes, prices are per page. Thanks for asking!
-- Stacye Leanza, 11/10/15



Hello, I found your information helpful, but I wanted to clarify as to whether the fees you charge are per page or the total? thanks
-- Lisa Laubach, 11/10/15


This website is made possible by an Emerging Artists Grant from the Durham Arts Council with support from the North Carolina Arts Council, with funding from the state of North Carolina and the National Endowment for the Arts, which believes that a great nation deserves great art. 
RSS
|