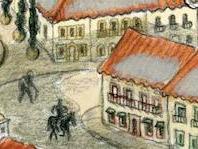 Hi Stacye. I think you were on the event this morning sponsored by the Chatham County Library with Dr. Charles Johnson. If it was you I was in the midst of sending you a "Thank You" for the wall mural that you painted years ago of my Grandfather and Father, Tod R. Edwards, Sr. and Jr., in Siler City. As my message was cut-off, I'll take this opportunity to say "Thanks" again for this great work of art. Rob Edwards
-- Rob Edwards, 6/19/21



Stacye, I have been wanting to take a class with you for oh so long, but commuting from upstate New York was always an obstacle - until now. What an unexpected silver lining to these frightening times that allows this particular dream to come true - can't wait for Online Figure Drawing Open Studio to begin! With love and gratitude...
-- Pati, 4/11/20



Working on a super hero elf Elf Judy. Interested in children's book about her and her adventures like reindeer wrangling, Elf on the Shelf Management & etc. How to proceed?
-- Al Capehart, 8/14/19



stacye is a nurturing, kind, patient teacher, who can coax the most timid artist to begin to flourish.
-- Pam Rademacher, 12/6/17



Incredible versatility and genuine portrayal of subject matter. I enjoyed clicking on all the many links to get a sense of all of the interesting and unique ways that you are able to express your many talents. Steevie Jane Parks, Ph.D. Licensed Psychologist, Certified Creativity Coach, Visual Artist
-- Steevie Parks, 8/10/17



I am so delighted that the print of your water lilies mural is available again! I'm ordering one for myself right now - not taking any chances on it being out of stock again! Thank you for the beautiful work....
-- Pati, 5/18/17



Hi I came across your website and I like really like your Art. I'm an rather new children's illustrator working with self publishers.. Not an easy task when working with authors and I don't have an agent. Would you recommend any advise? Thank you
-- Malinda Raines, 4/26/17



Drea and I are enjoying browsing through your galleries. The water lilies mural is on my wish list - ❤❤️
-- Pati, 3/17/17



Hi Stacye, I am in your color class at the Arts Center...where do you offer your classes?
-- Sharon Van Horn, 9/30/15



From your storyboarding illustration class my web sites are: thechristmasauntie.com musicgoldboy.com
-- Rob Westerman, 7/29/15



Wow Stacye!.. I love this site! So much of this I haven't seen yet!
-- Tommy Leanza, 3/4/13



Dear Stacye. Can you remember your stay in oudorp the netherlands. You after that sent us some fine illustrations and drawings, and if I am correct we met once in New york. we still sometimes look at our correspondence and your letters and wonder how ( good) you are doing. Anyhow the best regards, tessa now has 3 boys and rogier a girlfriend who is also a fine designer and illustrator using the same techniques. . Carpe)r' Diem
-- Tineke Carper, 2/11/13



Stacye, Very cool to see your beautiful work and learn about your path. Enjoying your class! Karin Bagan
-- Karin Bagan, 9/25/12



Hi Stacye Wondered what you have been up to. Now I know. What wonderful work!
-- Thea Bazzini, 5/26/11



Love as always, your work!
-- Kathleen Jones, 3/4/11



hi stacey-your artwork is very beautiful,,,!
-- Hazel, 11/15/10



So glad to find your site. Your sister Pati and I were best friends way back at St. Mike's, and still keep in touch. Found the note referring to your site on her facebook page, and so glad that I did. You're so talented! Congratulations and good luck to you!
-- Mary Renee Meyer, 11/8/10



Hi Stacye -- I was one of your charges at Long Lake in 1980. I have fond memories of your silversmith studio. Your work is remarkable! I absolutely love it.
-- Anne, 8/6/10



Hi Stacye- Your artwork is gorgeous, I'm so glad I found your website!
-- Jim Otterstrom, 5/12/10



Hi Stacye, I am amazed at how talented you are. I really like that you do all kinds of different tthings. All of your work is reallly good
-- 004A5o004450connie M. Conway, 10/8/09



i'm so excited and happy for you. you seem to be in full bloom! Yeah Stacye!
-- Steffie, 6/24/09



Hi Stacye, I'm a high school friend of your sister Pati, and we just reconnected by email. She told me about your work and website. I love your murals! Congratulations on your success.
-- Beth Swersie, 4/14/09



Mural - cost - for large room in nursing home - spot lighting our small town and the elderly. Wanted for dining room.
-- Tonya Hemric, 3/26/09



Your work is wonderful, fun, beautiful! Thanks for sharing it with us and sharing yourself with us.
-- Laurel, 3/17/09



Glad to see you're finally getting your work out there!
-- Karen Joyce, 3/16/09



Wow Stacye!!! Nice work. I didn't realize how much you had out there!! Congrats on getting your website up and running. & here's to midlife crisis!!!!
-- Tia, 3/13/09



Wonderful! Thanks for sharing this website with me. A toast to you, Stacye, and your continued alliance with your muse!
-- Mariah Wheeler, 3/13/09



WOW! I've always loved your work but to see the fantastic range of it, all together on this great site, is a wonderful treat! Congratulations! It's beautiful!
-- Stephen Hawthorne, 3/13/09



Stacye, Wow, has your Art grown! I was totally surprised at the wide range of styles that you are producing! Quit dirfferent from what I saw those many years ago in New York! Thanks for sending, and really, keep up the good work and good luck too! Jennifer Wupppertal, Germany March 13, 2009
-- Jennifer Sasaki, 3/13/09



So great to see so many of your fascinating colorful works displayed. I absolutely love the site.... To see fantasy in life, and life in fantasy and make it a realty, is truly a great dream. Way to go... Cara
-- Cara O'connell, 3/12/09



I'd love to see your chldrens; books. I didn'tknow that you had done any of that. I found the sight easy to use and very appealing. The fields jon this page ar a dark olive green on my screen. It's hard for me to read what I've written. Are thdy supponsed to be that way?
-- Blanche Morrison, 3/12/09



Stacye, it's just awesome to see this YOU again. What's going on with Soren these days?? tom maclean
-- Tom Maclean, 3/12/09



Wow. What an incredible body of work! You've been busy the past ten years! What is remarkable to me is the amazing variety of styles you have mastered. Bravo!
-- Sally Erickson, 3/12/09



Excellent .... what happened to the one you did on PBO street & road signs ??
-- Efrain A. Ramirez, 3/12/09



Stacye, Thank you for sending me your new website. I love it and your comments about the "Mural Process". I wish you great luck, Beverly Brookshire BrookshireArtist Sanford, NC
-- Beverly Brookshire, 3/10/09



Thanks for sharing your site, with me, Stace - gorgeous, as always! Everything seemed to work just fine as a browsed the site. Yaay!
-- Hannah, 3/10/09



What a delight to be able to see the whole range of your fantastic projects - all in one place!! I am continually amazed... Thanks for all you have taught me. Love, PLB
-- Pati , 12/3/08



Great site -- love the Board of Nursing work -- I am not sorry I have rescued you from a techno crazy world once in a while -- for real money. Keep up the good work -- beat back the guilt!! DK
-- David Kalbacker, 10/21/08


This website is made possible by an Emerging Artists Grant from the Durham Arts Council with support from the North Carolina Arts Council, with funding from the state of North Carolina and the National Endowment for the Arts, which believes that a great nation deserves great art. 
RSS
|