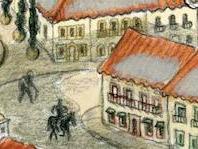 Ghosts

$27 - $187
sold out / unavailable

for The Poetry Book

2 comments |

Post comment

Ooooh! This is great. This is magical, too. It's not creepy, it's beautiful.
-- Victoria Leanza, 12/11/11


This website is made possible by an Emerging Artists Grant from the Durham Arts Council with support from the North Carolina Arts Council, with funding from the state of North Carolina and the National Endowment for the Arts, which believes that a great nation deserves great art. 
RSS
|