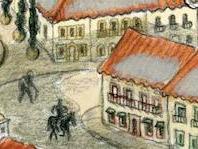 Lotus Mural

$13 - $99

This was done for the Acupuncture Healing Center in Chapel Hill, NC. My client wanted all the colors related to the Chinese elements to be used in the mural. At a mere 5' x 7', it is the easiest mural I've ever done. Because of its spiritual focus, it was also one of the most gratifying. Completed Mar. 2007

1 comment |

Post comment

This is a really beautiful mural...
-- Jim Otterstrom, 11/22/09


This website is made possible by an Emerging Artists Grant from the Durham Arts Council with support from the North Carolina Arts Council, with funding from the state of North Carolina and the National Endowment for the Arts, which believes that a great nation deserves great art. 
RSS
|