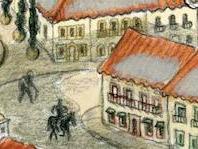 Our Lady of Chains

$27 - $187

The Black Madonna was inspired by the book The Secret Life of Bees, by Sue Monk Kidd. The original was sold at auction to benefit our local Art Council.

4 comments |

Post comment

you've got me curious, now! What a title! I'll try to check it out. Thanks for the tip, Gary!
-- leanza-art, etc., 10/16/11



I think so. She's in a show at Frank Gallery right now. I particularly like her Saint of Ornamental Grasses. love ya,
-- Gary Phillips, 10/14/11



No, , , but her name sounds familiar. Should I see her work???
-- leanza-art, etc., 10/14/11



wow. have you seen Sudie Rakusin's work?
-- Gary Phillips, 10/14/11


This website is made possible by an Emerging Artists Grant from the Durham Arts Council with support from the North Carolina Arts Council, with funding from the state of North Carolina and the National Endowment for the Arts, which believes that a great nation deserves great art. 
RSS
|