Click an image to enlarge

Here's an offer in honor of this brief spooky, soulful, saintly time of year, when things are slowing down, getting darker (& more colorful!), & some of us take time to reflect on mortality.
There are a few more prints here, too,
all directly or indirectly related to the theme.
Want one for your altar? Or a Halloween decoration?
They are 20% off on prints or posters until Hallowe'en,
to help you commemorate the souls, saints, & spirits in your life, & beyond.
Have a look: Three are from a book of poetry I illustrated, three are abstract paintings, and the others are old familiars. They all have themes of transformation, magic, spookiness, or other forms of spirit.
If any of them call out to you to take them home,
just click on the image and follow the prompts when the new window opens up. Click here for
Questions or More Help.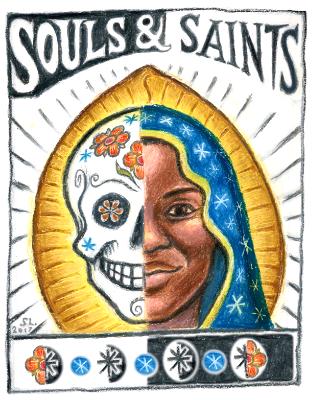 Souls & Saints Poster
$13 - $99
Oil pastel, original size 8.5 x 11"
Celebrates All Soul's Day, & All Saints Day, All Hallows Eve (aka Hallowe'en), Day of the Dead, ~ Plus the Autumn Leaves & darkening days... ~ a time for rest & transformation...