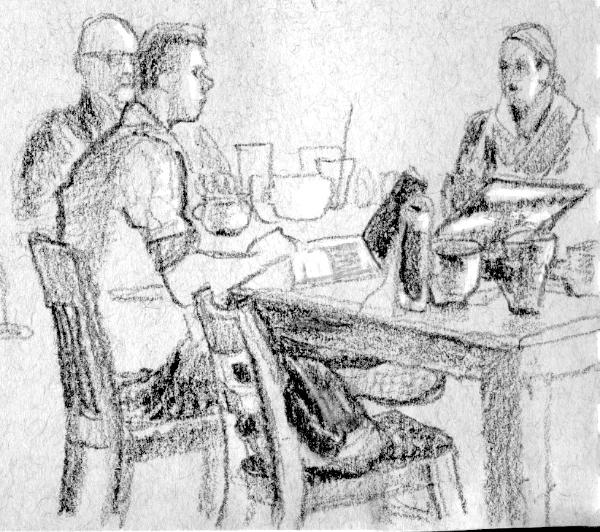 Virtual Sketchbook Journaling continues...
$133
Virtual Sketchbook Journaling on Our Upside Down World
Round 14 dates: We're meeting bi-weekly at 6:45 - 9:00 PM ET on Zoom, on the following dates:
Weds., Feb. 16, & Mondays, Feb. 28, Mar. 14, & Mar. 28
There is plenty to process, interpret, & express, and many ways to do it. I'll offer techniques to help you capture the essence of our rapidly changing world effectively, & make some sense of it at the same time. You will create a meaningful, personal chronicle of this chaotic time, that you can reflect upon long after it's over.
Class will include instruction, demo, and in-depth discussion & critique. Most (or all?) of the artwork will be done outside of class. Students will share their work in a Google photo album.
Classes will be held on Zoom, and start at 45 minutes past the hour, ET. Students are welcome from far & wide! [Scroll down for more Zoom info.]
---
More info for the curious:
Art heals! Art-making is a great way to work through anxiety, fear, grief (etc.) and come out stronger on the other side. It's also a great way to express wonder, curiosity, & new beginnings. We will support each other on this journey; the artwork will be the vehicle.
Just like a written journal, I recommend using a sketchbook specifically for this journey. You are creating a personal "story", a cohesive record of this period of time - a souvenir you can turn to & reflect upon in the future.
The first 4 sessions will cover ways to make your artwork more impactful, get to the heart of the matter, determine what aspects are most important to you to include. What are you noticing now that's different than before? How do you feel about it? What are you working through now? What will you want to remember later? How to best express it?
Tools we'll cover in this class,
Vantage points, visual points of view for best impact
Personal & intimate vs. broad & general images (inner world vs. outer world)
Combining text and images
Color & contrast
We may also cover (either in this or in subsequent classes):
collage work,
maps?, charts?
potentially some (interior) abstract work
Students will share their work in a Google photo album that we'll use in class for the critique.
Students can also share their work in my Facebook critique / support group, where members can offer support & feedback to each other between classes.
Maximum of 10 students.
Tuition: $133.00 USD For 4 sessions (includes PayPal fee)
To SIGN UP: click on the "add to cart" button below the image at the top of the page.
---
General Zoom Info:
For the first session, we'll meet a half hour early to go over Zoom protocol, so we're all on the same page. (It flies by fast, believe me!)
New to Zoom?
Please download the Zoom app well before class begins. It's free & really easy to use.
But: It is still wise to watch a Zoom Tutorial or 2, as well. Here are some pretty good ones:
Brief overview for beginners (official Zoom video):
This one's more in-depth, and slower. (Start tutorial at 2:35 minutes, and end at 4:35 minutes, to avoid unnecessary info.):
Questions? E-mail me at
sleanza.art@gmail.com
Be the first to
post a comment
.